Press Release
SSP"AdStir" and DSP "Appier"(Cross-Screen targeting technology) started RTB integration ~the largest smartphone SSP in Japan which continuously expanding number of DSP's connected~
UNITED, Inc. (Headquarters: Shibuya-ku, Tokyo; Chairperson and CEO: Tomonori Hayakawa, TSE Code: 2497, hereafter, "United") announces its SSP(*1) "AdStir (http://ad-stir.com/)" and Appier Inc. (Headquarters:Taipei ,Taiwan; CEO and co-founder, Chih-Han Yu,, hereafter, "Appier") a DSP(*2) "Appier (http://www.appier.com/en/index.html)" who offers cross-screen targeting technology(*3) started RTB(*4) integration.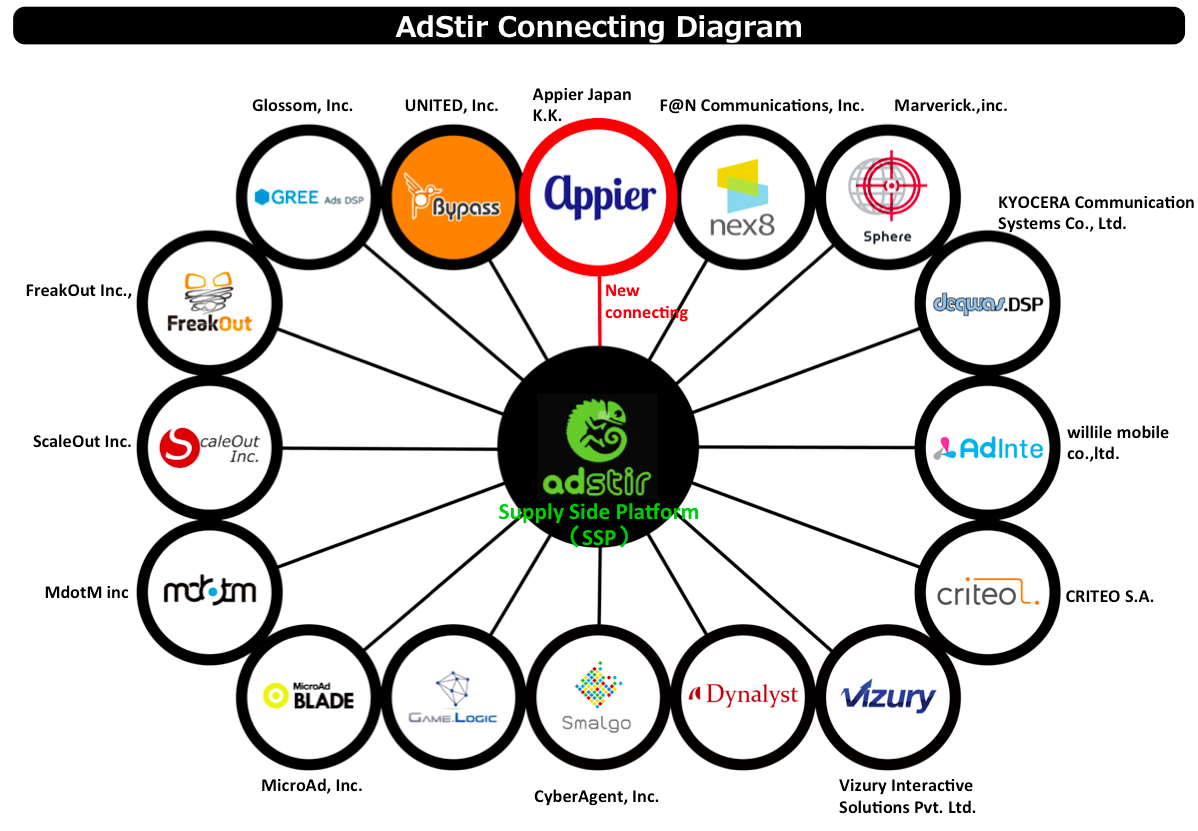 With this integration, Media Publishers who are connected via "AdStir" makes it possible to receive bids from 16 DSP's around the globe. By this, bidding competition will be more intensified and improvement of profit(monetization) can be expected.
On the other hand, advertisers who are advertising via "Appier" will be able to reach more publishers through "AdStir" which has 35 billion ad impressions(*5) monthly (as of June 2014) and deliver ads that match users with the right ad placement that will help improve the performance of the ads.
"AdStir" will continuously connect with Japanese local and global DSP's through RTB integration, increase bidding transaction and aim further to expand as RTB platform.
(*1) SSP (Supply Side Platform, Sell Side Platform) is an advertising management platform for the supply side that provides centralized management of numerous ads, and optimizes distribution (with functions such as yield optimize) in order to maximize growth.
(*2)DSP (Demand Side Platform) is an advertising management platform for the demand side (advertising side) that follows specific distribution logic to distribute ads to the optimum users in order to maximize advertising effects.
(*3) Cross-Screen targeting technology identifies devices owned by target users and delivers preferred content to the right user, on the right screen at the right time based their actual behavioral patterns.
(*4)RTB (Real Time Bidding) advertising is a form of advertising technology where the advertising buyer (advertiser) uses DSP to buy media ad spots on a per-impression basis in a bidding format. The advertising buyer (advertiser) can thus increase advertising effectiveness by paying a price that corresponds with that level of effectiveness. Media can be sold as impressions to the advertiser with the highest bid, which can drastically increase advertising income.
(*5)Ad impressions are one index used to measure the effectiveness of ads listed on websites, and refer to the amount of exposure that an ad has.
About Appier
Founded in 2012, Appier is a technology company offering next generation cross-screen marketing solutions to advertisers across the globe. Headquartered in Taipei, with offices in San Francisco, Singapore, Tokyo and Sydney, Appier is passionate about making advertisement the preferred content that connects businesses and users. Leveraging the power of Artificial Intelligence and Big Data, Appier delivers right marketing content to the right audiences at the right time on the right screen, aiming to make digital marketing experience easier and happier for everyone.
With a solid team of experts in data mining, artificial intelligence, and digital marketing from Google, Splunk, Intel, Yahoo, and renowned AI research groups at Harvard and Stanford University, Appier aspires to utilize the power of technology to help our clients achieve their business goals and maximize their ROI in the global markets.
About AdStir
United Inc. releases SSP"AdStir" in September 2011. "AdStir" is an advertising monetization platform designed for internet media ad spots to maximize profits (Yield Optimize) by optimizing distribution, and uses RTB advertising to generate a high level of profits. The number of monthly impressions stood at 35 billion in June 2014, making it the largest SSP in the Japanese smartphone market.
United moved to an open platform for RTB advertising much earlier than competitors, with the destination DSP increasing gradually from the company's "Bypass" to include "Appier", AdStir is connected to 16 DSP's around the globe. Further efforts will be made into the future for connections to DSP in Japan and abroad as an open platform.
United is working on further growth with the aim of cementing itself as the leading company within the smartphone RTB market, a segment where further growth is anticipated into the future.