Press Release
CocoPPa Smartphone App Surpasses Total of 30 Million Downloads A global app made in Japan, with 85% of downloads from overseas
UNITED, Inc. (Headquarters: Shibuya-ku, Tokyo; Chairperson and CEO: Tomonori Hayakawa; TSE Code: 2497) announces that CocoPPa, its smartphone customization community app provided by surpassed a total of 30 million downloads on October 12, 2014.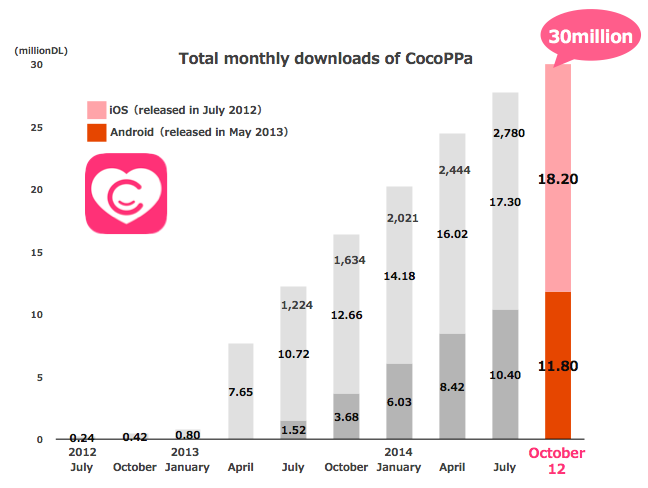 Since the launch of the service in July 2012, CocoPPa has become popular for allowing users to create cute customized smartphone home screens.
It enables to choose their own unique style by using icons and wallpaper materials posted by users.
It also enables the communication between users in different countries through its social networking service feature with automatic translation.
Its popularity has spread worldwide through SNS and word of mouth and the service surpassed 30 million downloads after two years and three months since its launch.
85% of CocoPPa's downloads are from overseas. The service continues to be particularly popular in the USA, Japan and the European Union, with a large number of downloads in Brazil and Taiwan.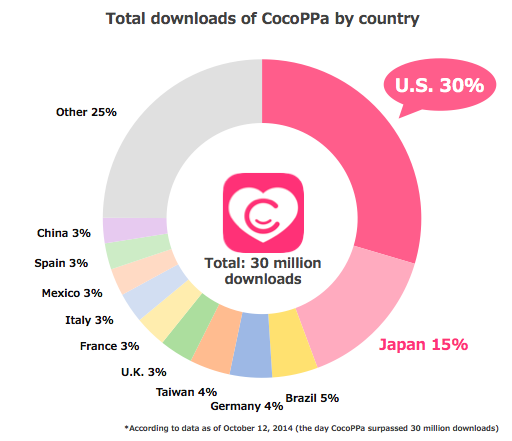 This Japanese app for "cute" customization has a strong followers around the world, acquiring over one million downloads each month even after more than two years since the service launch.
The user base has become even more active with the release of related services: CocoPPa Play (*2), an avatar app, was released in March 2014; CocoPPa Pot, a resident storage folder for home screens, was released in August and CocoPPa Keyboard, a keyboard customization and text input app for the iPhone, was released in October.
Along with those sister apps, CocoPPa is shifting from a single app to a group services.
UNITED, Inc. aims to build on the global popularity of CocoPPa and continue creating new markets for smartphone customization around the world.
*1 Over 880,000 icons and 190,000 wallpapers as of the end of September 2014.
*2 An avatar app operated in collaboration with GCREST, Inc. (head office: Shibuya-ku, Tokyo; Chairperson: Haruto Suemitsu). Users can dress avatars in cute clothes and accessories and show them to other users in a fashion show. A tie-up feature between CocoPPa and CocoPPa Play allows avatars created in CocoPPa Play to be set on users' My Page in CocoPPa.
■Company Overview
UNITED, Inc.
Headquarters: Alive Mitake, Shibuya 1-2-5, Shibuya-ku, Tokyo 150-0002, Japan
Established: February 20, 1998
Representative: Tomonori Hayakawa, Chairperson and CEO
Capital: 2.696 billion yen (as of end of March 2014)
Website: https://united.jp