Press Release
Entry into Home Application Market of Global Android Devices Launch of a New Home App"CocoPPa Home"This Month– Smartphone Portal for all women who like Home Screen Customization in a Cute Fashion –
UNITED, Inc. (Headquarters: Shibuya-ku, Tokyo; Chairperson and CEO: Tomonori Hayakawa; TSE Code: 2497; hereinafter "United") announced that "CocoPPa Home," a new home app for Android OS, will be released this month.

"Home apps" are apps to customize the home screens (standby screens) of smartphones. Home apps can be replaced on Android OS, which is highly customizable. In addition to the wallpapers and icons that can be also customized with original "CocoPPa," this new app makes it possible to easily modify, usability, visual effects, widgets including clocks, and more.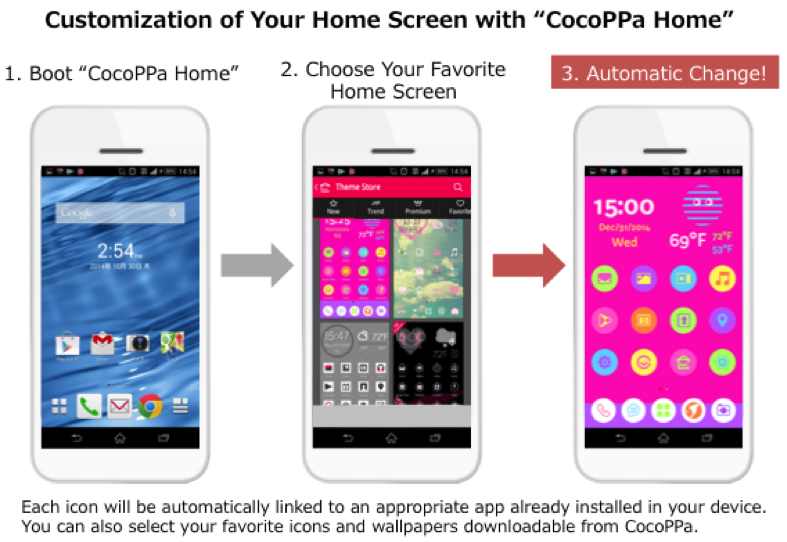 As users necessarily see their home apps when they boot their smartphones, we see various benefits including improved advertising earnings, increased introduction to other apps, and improved earnings from charges items, as a result of a predicted high rate of activity.
Our community app "CocoPPa" has grown to exceed 30 million downloads with a support from women who likes cute items aross the globe.  We aim at prevelence of "CocoPPa Home," a simple and kawaii home app, as our next Android OS strategy, while keep providing "CocoPPa" for fans who likes core personalization and customization of their smartphones.
Further, in the development of "CocoPPa Home," in aiming for a high standard of service in terms of linkage with "CocoPPa," comfortable usability, future service expandability, and so forth, UNITED has selected SS Digital Media, LLC (Headquarters: California, U.S.A.; CEO: Ashvin Dhingra; hereinafter "SSDM"), the provider of "Themer,"1 a home app already receiving acclaim from all quarters, as a partner for the technical aspects. UNITED has invested funds2 through its 100%-owned subsidiary company CocoPPa, Inc. (Headquarters: California, U.S.A.; CEO: Naka Imuta)  A joint team of the three companies is conducting development of "CocoPPa Home."
While UNITED will constantly develop "CocoPPa" as a community service for its users exchanging their products, it will raise "CocoPPa Home" as a core app among a CocoPPa app lineup.
UNITED will aim for a position as a provider of a smartphone portal for women who like their smartphone customization with spread of "CocoPPa Home" in a global Android OS market.  In addition, UNITED will aim for large scale growth of "CocoPPa Home," cooperating with, and navigating its users to, our other various apps for women including "CocoPPa" and our avator game app "CocoPPa Play."
1. "Themer" is a home app developed by SSDM. It was released in November of 2013, and has exceeded 3 million downloads (as of October 2014). The total number of home screen material downloads since the app's release has exceeded 12.5 million. It features functional characteristics such as the ability to change home screens with one touch (additional downloads for themes and widgets are unnecessary), and has been covered in media including The New York Times, CNET, Wired, TechCrunch, and Lifehacker as a superior home app with beautiful design.
2. The investment was conducted in June of 2014, and CocoPPa, Inc. acquired 19.9% of SSDM's voting rights.
■ What is "CocoPPa"?
CocoPPa is an app that allows users to customize their smartphone home screens to their liking using the available icons and wallpapers. Anyone can become a creator, posting illustrations as icons and wallpapers, and vibrant communication that transcends national borders takes place between users through message boards for each type of posted material.
CocoPPa is a global home screen customization community with over 30 million total downloads, with 85% of downloads from outside of Japan.
■ SS Digital Media, LLC Company Overview
Headquarters: 15615 Alton Parkway, Suite 320, Irvine, CA 92618, U.S.A.
Established: August 13, 2012
Representative: Ashvin Dhingra, CEO
■ UNITED, Inc. Company Overview
Headquarters: Alive Mitake, 1-2-5 Shibuya, Shibuya-ku, Tokyo 150-0002, Japan
Established: February 20, 1998
Representative: Tomonori Hayakawa, Chairperson and CEO
Capitalization: 2.696 billion yen (as of the end of March 2014)
URL: https://united.jp
■ CocoPPa, Inc. Company Overview
Headquarters: 30 Executive Park, Suite 255, Irvine, CA, 92614, U.S.A.
Established: August 22, 2013
Representative: Naka Imuta
Capitalization: 518 million yen (as of the end of October 2014)