Press Release
SSP"AdStir" and Native Mobile Advertising Platform "Pubnative" started the first integration in Japan
UNITED, Inc. (Headquarters: Shibuya-ku, Tokyo; Chairperson and CEO: Tomonori Hayakawa, TSE Code: 2497, hereafter, "United") announces its SSP(*1) "AdStir (http://ad-stir.com/)" and Pubnative GmbH, (Headquarters: Berlin, Germany; Co-founder: Ionut Ciobotaru, Eddie De Guia hereafter, "Pubnative") a native mobile advertising platform "Pubnative" started the first integration in Japan.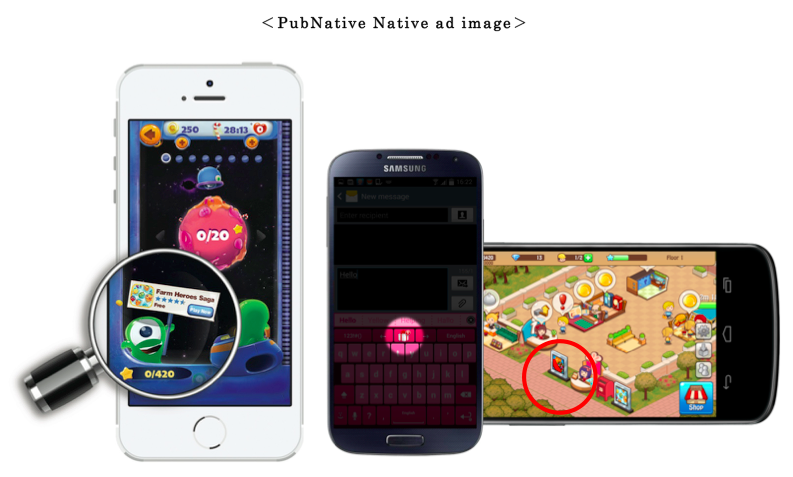 Since July 2014, AdStir started providing native advertising (including "In-feed type") ahead in the country as SSP. With this integration, Media Publishers Media Publishers using "AdStir" like games and tools who doesn't have feed makes it now possible to deliver customizable native ads. This make it possible to deliver a native ads in a variety of expressions to match the user experience of apps, like game character who has placard that has ads on it , keyboard tools with ads or show ads on billboard in the 3D Game. By this approach, it will give us at the same time to make a new model of revenue source.
On the other hand, advertisers who are advertising via "Pubnative" will be able to reach more publishers through "AdStir" which has 30 billion ad impressions(*2) monthly (as of September 2014) and deliver ads that match users with the right ad placement that will help improve the performance of the ads.
"AdStir" will keep on improving its feature, support different ad formats in the future and continuously connect with Japanese local and global DSP's(*3) through RTB integration to increase bidding transaction and aim further to expand as RTB platform.
About Pubnative GmbH

PubNative is a mobile publisher platform fully focused on native advertising for apps and mobile web. Being API-based, it does not require the integration of an SDK. Publishers can request over 20 creative assets to enrich their ads and thereby create any number of combinations for unique and truly native ad units. PubNative's eCPM maximization algorithm optimizes yield for publishers through machine learning patterns and predictive behavior analysis. The platform additionally offers publishers numerous ad delivery and targeting features as well as extensive inventory management tools. The company plugs into the PubNative Exchange, a programmatic App Promotion Exchange with campaigns from over 300 demand partners worldwide. PubNative is headquartered in Berlin with further presence in San Francisco and Seoul.
About AdStir

United Inc. releases SSP"AdStir" in September 2011. "AdStir" is an advertising monetization platform designed for internet media ad spots to maximize profits (Yield Optimize) by optimizing distribution, and uses RTB advertising to generate a high level of profits. The number of monthly impressions reached 30 billion in September 2014, making it the largest SSP in the Japanese smartphone market.
United moved to an open platform for RTB advertising much earlier than competitors, started the integration with the company's DSP "Bypass" in April 2012. AdStir is connected to 17 DSP's around the globe and will continue to integrate with different platforms in Japan and around the globe as an open platform.
United is working on further growth with the aim of cementing itself as the leading company within the smartphone RTB market, a segment where further growth is anticipated into the future.
(*1) SSP (Supply Side Platform, Sell Side Platform) is an advertising management platform for the supply side that provides centralized management of numerous ads, and optimizes distribution (with functions such as yield optimize) in order to maximize growth.
(*2)Ad impressions are one index used to measure the effectiveness of ads listed on websites, and refer to the amount of exposure that an ad has.
(*3)DSP (Demand Side Platform) is an advertising management platform for the demand side (advertising side) that follows specific distribution logic to distribute ads to the optimum users in order to maximize advertising effects.
 (*4)RTB (Real Time Bidding) advertising is a form of advertising technology where the advertising buyer (advertiser) uses DSP to buy media ad spots on a per-impression basis in a bidding format. The advertising buyer (advertiser) can thus increase advertising effectiveness by paying a price that corresponds with that level of effectiveness. Media can be sold as impressions to the advertiser with the highest bid, which can drastically increase advertising income.